Yes, that worked perfectly. I exported the route again with the vectors in place, they show up in Trainz as they should.
My final question is, how can I place the vectors on my already-exported route ? I believe it was mentioned somewhere, but cannot find the topic.
I tried simply copying the new .trk file into my intial route, but all that did was to remove all tracks from the map.
Edit: found a procedure for this, but I'm getting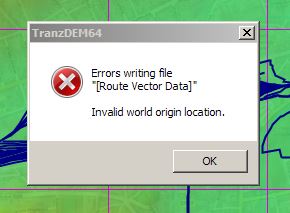 Edit2: I fixed the world origin, but something is not right..
I opened for editing the route, but the Track export utility was not able to find it, so I copy-pasted the whole route folder into the Export folder (that I used to export the route initially) and it was able to see it there. I then ran the procedure to export the vectors, but the resultant trk file is empty: